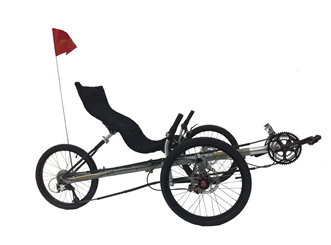 Trident Spike, Posted on November 13, 2015
­The Trident Spike premiered in 2010, and with some changes over time, it is truly a contender for being the best entry level trike around. Trident is big on value, and you will be surprised how much you get for your money. This trike will get you off the couch enjoying the sun and fresh air while you reconnect with nature because Spike is perfect for parks and trails. Or perhaps the easy pedaling and direct steering will prompt you to get to know your neighbors and local businesses. Everyone will want to know about your trike; it happens to all trike owners. There are now 4 versions of the Spike to choose from.­­­
Frame: The Spike frame is made out of Chro-Moly steel that is TIG welded together with a telescoping aluminum boom. It is really amazing that Trident was able to offer so much value in the Spike frame. The welds are precise and consistent on the Spike and better than expected, on a trike in this entry level price range. Other entry level trikes on the market use bushings in their front end, not Trident. They use actual bicycle headsets which are much better. The headsets make the steering much lighter in feel and can be adjusted whereas trikes with bushings will get a looser feel with age. The Trident Spike can be folded very easily by removing the seat with the two quick release levers and then using the quick release lever on the frame. I will have to say that the Trident Spike folds easier than some trikes costing almost triple the price. The hinge looked to be well made and Trident gives the trike a 275 lbs weight capacity. Trident also makes an extra-long boom for the Spike.
Paint: You cannot see your reflection in the paint but the paint is more than adequate. The paint is a powder coat that is applied generously and should last the life of the trike.
Drivetrain: The drivetrains are what really make most of the Trident Spike models different than the next.
Spike 1 – 7 speed Shimano Tourney rear derailleur with a Shimano Revo grip type shifter.
|Spike 2 – Upgrades include a Truvativ Triple Crankset, Microshift Front Derailleur, Microshift Marvo LE Rear Derailleur, an 8 Speed 11-32 Cassette, and finally Avid BB5 Disc Brakes.
Spike 360 – For those who would rather not have a derailleur system. The Spike 360 features the Nuvinci N360 system infinitely adjustable rear hub which has a range of 360 degrees as well as Schwalbe Big Apple Tires and Avid BB5 Brakes.
E Spike – A modified 8 Speed, Spike 1- It uses an integrated system by a Japanese company called Dapu. It features a 350W Geared Hub Motor, a special Crank with sensors, a 36V 13 AH rack mounted battery with built in light, and a digital display. With this system, you can choose between throttle only or 6 different levels of pedal assist. The 36v 13AH battery is much larger than other manufacturers use and will give you a much longer range (about 30 miles electric only and up to 75 miles using pedal assist). This entire package only adds 18.5 Lbs to a Spike! Schwalbe Big Apple 20 x 2.0 Tires, Microshift Trigger Shifter, and Avid BB5 Brakes are standard equipment.
Brakes: Trident Spike 1 uses disc brakes made by Promax. The Promax brakes stop well enough. All other Trident Spikes get upgraded brakes to the Avid BB5. The Avid BB5 is a nice step up from the Promax brakes. The Avid brakes are my favorite non hydraulic disc brakes. They just work so well, are very easy to adjust and you can get replacement brake pads at just about any bike shop. The brake levers have a parking lock where there is a button on the brake lever that you can push and lock the brakes in the on position.
Seat: The seat on the Trident Spike is very adjustable. It can be adjusted from 14 5/8 to 16 ½ inches. This makes the seat on the Trident Spike not only one of the most adjustable, but one of the trikes that has the highest seat heights on the market as well. The seat angle can easily be adjusted with one quick release lever from 42 – 52 degrees. Tridents new seat frame is made of aluminum and is much nicer than their older steel version. The new aluminum seat frame received some new shaping and fit my lower back and bottom well. The seat fabric is a padded, breathable, fabric that is well made. It has a reflective strip across the top and a nice zipper pocket. The seat is a bit wider and taller than most other trike brand seats, which is a good thing. The Trident Spike seat width measured 16 inches and the height measured 22 inches therefore most people should have no problem getting in and out of the Spike. Even if the seat is in its lowest position, it is still higher than a lot of other trikes on the market.
Ride: Entry level riders fear neck strain of the layback recumbent trikes but there are no worries with Trident Spike's upright seating position. Trident uses direct steering on the Spike and indirect steering on their Stowaway and Transport which are their two next trikes up in quality and features. I am a bit more of a fan of the indirect steering, however, the direct steering got me to where I was going with no problem. I understand why Trident uses direct steering on the Spike; it is just simpler and easier to manufacture which keeps their cost down. The Trident Spike frame did a fine job at soaking up road shock. I had the opportunity to not only ride the trike on the streets and paths by my home but also on some crushed limestone paths as well.
Accessories: Trident mudguards, neck rest, rear rack are all quality pieces. Pass on the rear light and mirror, you can do better.
In Conclusion: Trident has produced a nice trike with a lot of features that you would not expect in such a low price range.
Pros: Low cost, the trike is easy to fold, and is easy to get on and off of. The seat has a nice shape and size. The trike is fairly light at 38 lbs.
Cons: I thought the handling could be improved but it still got me to where I was going fine. The seat mesh fabric is comfortable but a bit warmer than others.
Best place to buy: Your local Trident bike dealer or www.industrialbicycles.com

One might compare the Spike to the Rambler and the Trident Stowaway.
Low cost
Easy to fold
Easy to get on and off
Good seat
38 lbs
 Direct steering
Seating is slightly too warm
Trident Spike Specifications
COMPONENTS
Cranks
Derailleur
Shifter
Cassette
Front hubs
Chain
Rims
Spokes
Tires
Brakes
Brake Levers
44T Alloy Crankset w/ 165mm Cranks
Shimano Tourney
Shimano Revoshift
Shimano 14-34
7 Speed
Custom CNC Alloy Disc Hubs
KMC Z9000
Double Wall Alloy
Stainless 14g
Kenda Kwick 100PSI
Novich
Disc Brakes
Promax w/ Lock
DIMENSIONS
EXTRAS
Track
Width
Wheelbase
Average Length (Varies)
Seat angle
Weight
Rider weight limit
Gear Inches
X-Seam
Range
Rear Rack, Mirror, Lights
(F & R) Fenders
(F & R)
Pedals
31.5″ (80cm)
35.3″ (90cm)
39.4″
(1000 mm)
78 3/4"
(2000mm)
42-52
degrees
37.9 LBS (17.2 KG)
275 Lbs
24.2"-58.7"
36 1/4- 45 3/4"
OPTIONAL
Alloy Included
Spike 2 Specs
COMPONENTS
Cranks
Rear
Derailleur
Shifter
Cassette
Front hubs
Chain
Rims
Spokes
Tires
Brakes
Brake Levers
Truvativ Alloy Triple Crankset 30/42/52
165 mm Crankarms
Microshift
Microshift Twist Shift
SRAM PG 960 11-32
Custom CNC Alloy Disc Hubs
KMC Z9000
Double Wall Alloy
Stainless 14g
Kenda Kwick 100PSI
Avid BB5 Mechanical Disc
Promax w/ Lock
DIMENSIONS
EXTRAS
Track
Width
Wheelbase
Average Length (Varies)
Seat angle
Weight
Rider weight limit
Gear Inches
X-Seam
Range
Rear Rack, Mirror, Lights
(F & R) Fenders
(F & R)
Pedals
31.5″ (80cm)
35.3″ (90cm)
39.4″
(1000 mm)
78 3/4"
(2000mm)
42-52
degrees
38.6 LBS (17.5 KG)
275 Lbs
17.4-88.1″
36 1/4- 45 3/4"
OPTIONAL
Alloy Included
Spike 360 Specs
COMPONENTS
Cranks
Rear
Hub
Shifter
Cassette
Front hubs
Chain
Rims
Spokes
Tires
Brakes
Brake Levers
42T Alloy Crankset w/ 165mm Crankarms
Nu Vinci N360
Nu Vinci Shifter
17T Sprocket
Custom CNC Alloy Disc Hubs
KMC Z9000
Double Wall Alloy
Stainless 14g
Schwalbe Big Apple 20 x 2.0
Avid BB5 Mechanical Disc
Promax w/ Lock
DIMENSIONS
EXTRAS
Track
Width
Wheelbase
Average Length (Varies)
Seat angle
Weight
Rider weight limit
Gear Inches
X-Seam
Range
Rear Rack, Mirror, Lights
(F & R) Fenders
(F & R)
Pedals
31.5″ (80cm)
35.3″ (90cm)
39.4″
(1000 mm)
78 3/4"
(2000mm)
42-52
degrees
38.6 LBS (17.5 KG)
275 Lbs
23.1-83.1″
36 1/4- 45 3/4"
OPTIONAL
Alloy Included
E Spike Specs
COMPONENTS
Cranks
Rear
Derailleur
Shifter
Cassette
Front hubs
Chain
Rims
Tires
Spokes
Brakes
Brake Levers
Dapu w Crank Sensor
Shimano Tourney
Microshift Trigger Shifters
SRAM PG 960 11-32 8 Speed
Custom CNC Alloy Disc Hubs
KMC Z9000
Double Wall Alloy
Schwalbe Big Apple 20 x 2.0
Stainless 14G (F) 12G (R)
Avid BB5 Disc
E Spike Specific Levers
DIMENSIONS
EXTRAS
Track
Width
Wheelbase
Average Length (Varies)
Seat angle
Weight
Rider weight limit
Gear Inches
X-Seam
Range
Rear Rack, 36V 13AH Li-Ion Battery, 350W Motor
Pedals
31.5″ (80cm)
35.3″ (90cm)
39.4″
(1000 mm)
78 3/4"
(2000mm)
42-52
degrees
56.4 LBS (25.5 KG)
275 Lbs
24.2"-58.7
36 1/4- 45 3/4"
Fenders, Mirror Optional
Alloy Included