Trailmate Hefty Hauler Industrial Tricycle Review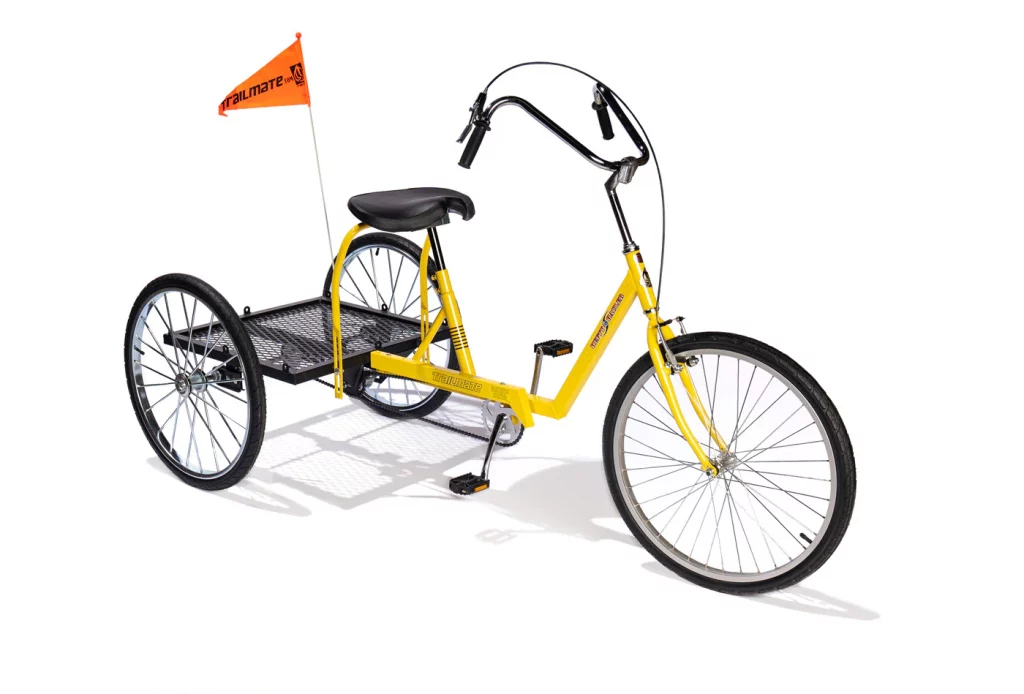 Trailmate Hefty Hauler Review on February 5, 2019
Trailmate have been building quality adult tricycles since 1977 in Bradenton Florida. I know the Harry, the owner at Trailmate, very well and talk to him on a regular basis. About ten years ago, Trailmate was making some upgrades to their factory and adding a new paint line. I asked Harry why he would go through all that trouble rather than just have his tricycle made in Taiwan or China like so many other companies do. Harry said that he did not want to live with a suit case in his hand. If you have your products made somewhere else, you have to be there all the time to monitor the quality.
Harry went on to say that sure, you can make more money by having your products made in China, but that's not what he wanted to do and not what Trailmate is about. Harry is easily at the age that he could retire but he is an entrepreneur and business is in his blood. I think he really enjoys working and making trikes, and I think it gives him a purpose in life.
Frame: The frame on the Hefty Hauler is TIG welded together in Florida and has a 500 Lbs. capacity. It's easily put together by bolting the rear section to the front by using four bolts. The Hefty Hauler set itself apart in many ways from other Industrial Tricycles. The Hefty Hauler has the largest rear cargo platform area of any Industrial tricycle and the frame on the Hefty Hauler is also longer than other brands giving riders more room between the seat and handlebars.
Paint: Trailmate has it own paint department. The standard colors for the Hefty Hauler are Industrial Yellow and Gloss Black. Trailmate can do custom colors for an up charge on the Hefty Hauler. The paint is a powder coat and is applied extra thick on the Hefty Hauler, the quality is equal to better than other Industrial tricycles on the market.
Gearing: The stock drivetrain on the Hefty Hauler is a Coaster Brake. Most factory and industrial users prefer the Coaster Brake because it adds a level of safety for the rider. Trailmate also offers a three speed coaster brake kit which is a nice addition if you have to ride up a ramp or hill.
Braking: The Hefty Hauler uses a "V" style front brake which is welded to the fork of the trike. The "V" brake comes with oversize brake pads and can stop the trike more than sufficiently.
Seat: Hefty Hauler's seat is a huge oversize seat with a rear support bar that bolts directly to the frame. For large heavier riders this is the best option for a seat.
Ride: We like the ride on the Hefty Hauler. The cranks are positioned a bit farther forward which gives the Hefty Hauler a more recreational feel and adds stability. While moving the cranks farther forward helps stability, it also makes riding the trike standing a bit more awkward. The Hefty Haulers most popular wheel size is the 26" but it is also available in 24" wheels.
Wheels: Trailmate uses heavy duty wheels that the spokes are welded directly to the hub and rim. Trailmate has been using these wheels for years and have proven to be very reliable. A popular option is a tire liner to help prevent flat tires or solid tires.
Other Stuff: The Hefty Hauler is available with the largest rear cabinet on the market. It is made of diamond plate of aluminum so it does not rust and has a lockable clasp.
Pros: The Hefty Hauler is safe, durable and stable it provides a confident reassuring ride and is a well built trike. The Hefty Hauler features a reliable one piece crank, Sealed Pillow block rear axle bearings, extra wide seat with a support bar. Its frame is longer than other brands and is TIG welded together. The paint is high quality and will look good for years. You also got to love that it is made in USA.
Cons: Even though the Hefty Hauler has a 500 Lbs weight capacity the rear axle is not as thick as some other brands.
Best place to buy: Local Trailmate Dealer or www.Industrialbicycles.com
Durable
500 lbs weight limit
Very well built
Strong Wheels
Not that thick of a rear axle
Seat
Seat height (seat to pedals): 25 – 33″ (635 – 838 mm)
Wheels and Tires
Front wheel size: 24/26 x 2.125″
Rear wheel size: 24/26 x 2.125″
Measurements
Ground clearance: 8″ (203 mm)
Total width: 33.5″ (851 mm)
Length: 79″ (2007 mm)
Total height: 45″ (1143 mm)
Standover height: 15″ (381 mm)
Platform size: 24 x 26″ (609.6 x 660.4 mm)
Specifications
Weight: 80 lbs (36 kg)
Max payload: 500 lbs (227 kg)
Frame material: Steel