Trailmate Desoto Classic Review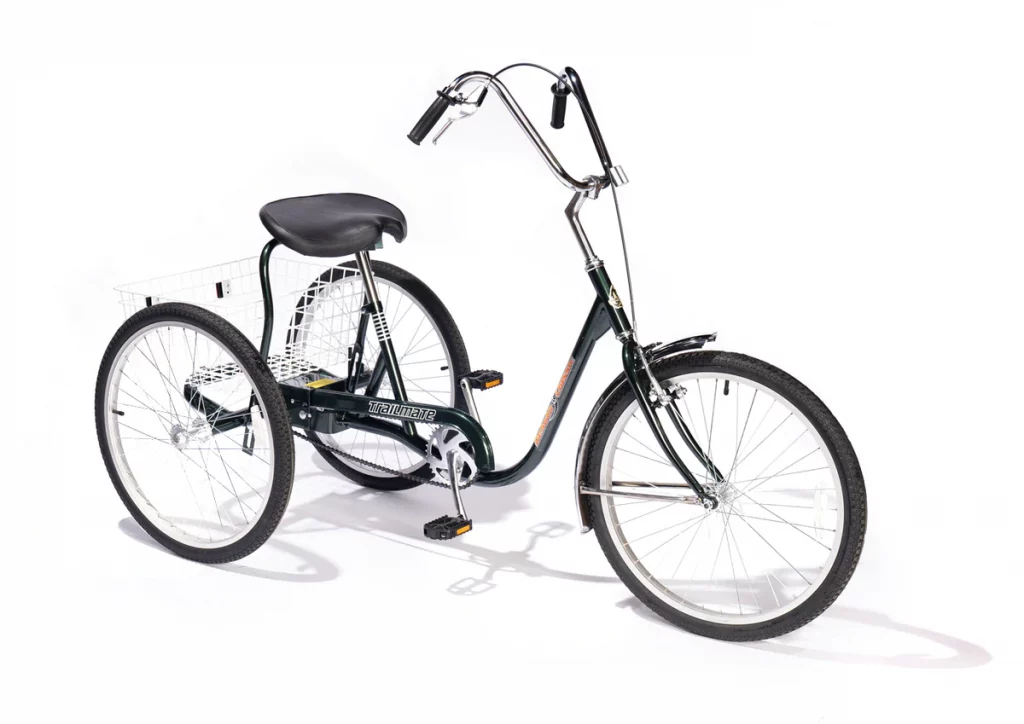 The highlights of the Trailmate's Desoto Classic Trike is its low step through frame, easy pedaling gearing and western style seat.   The Desoto Classic is available in three versions, Freewheel, coaster brake and three speed coaster brake along with three wheel sized 20″, 24″ and 26″  Trailmate also gives you four standard colors to chose from blue, red, lavender and green, they can also do a custom painted color for an up-charge. Trailmate has the frames made in China and packages the trike in USA for shipment to there dealers.
Frame:  The frame is made of steel that is TIG welded together.  The welding is good, smoother than the offering by Sun Bicycles on there comparable trike.  The paint on our test trike was adequate sprayed on, the paint was evenly applied but lacking a bit if depth and shine. The frame come in two parts and is a pain to put together if you are installing a coaster brake or three speed.  The frame has a 250 Lbs limit which is about the same as other trike we are reviewing, if you need a stronger frame with a higher capacity check out the industrial trikes and heavy duty trikes.  We have seen a lot of Desoto Classic with bent chain guards.  This is not a problem with the chain guard just a problem with the trike user.  Many people for some reason feel they need to step on the chain guard to boost themselves up onto the seat.  The chain guard was never designed for this and hence the bent chain guards.
Gearing: The gearing on the single speed freewheel version is easy and most people will find it not to difficult to pedal.  Trailmate offers a coaster brake kit where you can stop the trike by pedaling backwards a quarter turn like a bike you rode when you were a kid.   Trailmate also offers a three speed kit which is preferable and very nice.  The three speed kit gets you a coaster brake so you can stop the trike with your feet, and one gear easier and one gear harder than the single speed version.
Braking: The three speed coaster brake kit worked very well and stopped our trike easily.  The coaster brake is ideal for people who may have some arthritis in there hands, low hand strength or just feel safer with the coaster brake.  All Trailmate Desoto Classic's trike come with a front hand brake which can stop the trike just fine by itself.
Seat: The Western style seat was wide and comfortable and appealed to us.  The Western style seat from on the Desoto Classic and the seat on the Sun trike were very similar.  We had numerous people ride both seats and the seats were liked equally as well.
Ride: The ride was good but we did not care for the steering so much.  The fork is raked out very far compared to other trikes we are reviewing and gave the Trailmate a less steady and precise feel.
Other Stuff: Trailmate offers the Desoto Classic with a vinyl coated rear basket, front fender, reflector set, flag and front brake with parking lock.  Options include rear fenders, coaster brake kit and three speed coaster brake kit, mag wheel upgrade, heal supports foot straps, and a lifetime frame warranty.  Weight 66-71 lbs.
Pros:  Trailmate has been building the Desoto Classic just about forever.  It is a proven well constructed trike with a large western seat.  The seat is more adjustable than the seat on the Sun Traditional and  wider than the seat on the Low Step.  Available in single speed freewheel, single speed Coaster brake and three speed Coaster Brake, 20″, 24″ or 26″ wheel and four colors.  If you live by the ocean the Trailmate can be had with plastic mag wheel which not only look cool but do not rust.  Come with a vinyl coated rear basket, alloy rims and chrome plated front fender  66-71 Lbs
Cons: If you get the coaster brake kit or three speed kit it add a high level of complexity to get the chains and frame adjusted properly.  Wimpy looking fork compared to the other trike and raked way out made it less responsive compared to the Sun traditional or Low Step.
Best Place to buy: Your local bike shop or www.industrialbicycles.com
A very comfortable seat bottom

Easier to get on and off of compared to a tadpole style trike

Low price
A little more tippy than a Tadpole style trike
Full Specifications As of 2013
Frame: High Tensile Steel, TIG-Welded
Fork: High Tensile Steel, TIG-Welded
Headset: Steel, Caged Bearings, Sealed, 25.4 x 34 x 30mm, Black
Handlebar: Steel w/2 Bottle Braze-ons
Stem: Alloy, 22.2 x 240mm Quill x 40mm Ext., Black
Grips: 2-Tone Kraton Gel
Front Brake Lever: Alloy, Linear Pull, Black/Silver
Rear Brake Lever: Alloy, Linear Pull, Black/Silver
Front Brake: Alloy, Linear Pull, Black
Rear brake: Single Mech. Disc
Front Shifter: Sram MRX 3-Speed Grip Shift
Rear Shifter: Sram MRX 7 Speed Grip Shift
Front Derailleur: Microshift, DP, 31.8mm Clamp
Rear Derailleur: Shimano Tourney, Black
Sprocket: Fixed Sprocket 15mm x 20T
Rear Axle: Rear Axle EZ3/X3 SX
Saddle: Contoured Foam w/Tri-Color Cover
Seat Mesh: Cool Mesh Seat Back
Seat Back: Cool Back Steel w/2 Bottle Mounting Points
Seat Cover: Tri-Stitch, Permanent
Seat Mount: Steel 1″ Black
Seat Mount Binder: QR M6x50mm Alloy
Seat Back Pivot Bolt: 10mm, Chrome
Upper Strut: Steel 150mm Black
Upper Strut Bolt: M5x35mm
Upper Strut Washer: Curved Nylon Washer
Lower Strut: Steel, Clamp Type, 240mm BLK
Strut Clamp: Pin with QR
Crank Set: Alloy 170×48/38/28 (steel rings)
Bottom Bracket: Sealed Cartridge, 68 x 118mm
Chain: 1/2″ x 3/32″, Sil/Gry, (218 Link Total)
Chain Guide: Single Guide Wheel
Chain Guide Hardware: Guide Wheel Hardware Double
Pedals: Resin Pedals, 9/16″
Front Hub: Alloy, 28H x 14G with Q/R Axle, Black
Rear Hub: Trike, Pinned Steel, 36H, Black
Front Rim: 16 x 1.5-1.75″ Alloy SL 36H
Rear Rim: 20 x 1.5-1.75″ Alloy SL 36H
Spokes: 14G Stainless Steel with Brass Nipples, Black
Front Tire: 16×1.50 BW Kenda Kwest 60psi
Rear Tire: 20×1.50 BW Kenda Kwest 60psi
Weight: 56 Lbs