If you are looking for one of the softest riding, best handling trikes, with over the top engineering and quality, the Hp Velotechnik Scorpion FS 26 may be your Holy Grail. HP Velotechnik builds only top shelf quality products. HP Velotechnik builds the Scorpion FS 26 in their factory in Kriftel Germany. The Scorpion FS 26 is built the German way, which is with no compromises or corners being cut. HP Velotechnik pays great attention to every detail on their trikes and bikes. The Scorpion FS 26 will convert you. After you ride the Scorpion FS 26 awhile, you will find that you just do not ride your two wheel bike anymore.
Frame: The frame on the Hp Velotechnik Scorpion FS 26 is made out of aluminum which is TIG welding together. The welds are
consistent and smooth and as close to perfect as it gets. The Scorpion FS 26 trike folds in half and is a flat fold style where the rear wheel folds over the top and settles in between the handlebars. The rear frame has a unique little bumper to keep the front and rear frame from banging together. Hp Velotechnik also has neat Velcro straps on the Scorpion FS 26 to hold the front and back of the trike together while transporting the trike. The quick release hinge is super sturdy; the hinge has an extra safety catch on the bottom. The front suspension rides on both coil springs and an elastomer system. The suspension is a telescoping design with 6 cm of travel. The Scorpion FS 26 also uses a sway bar under the frame so the trike stays nice and flat while turning. The Scorpion FS 26 has a weight capacity of 308 lbs whereas most other companies rate their recumbents at 275 lbs for a maximum capacity.
Paint: The Scorpion FS 26 has two standard paint jobs available. First is the Cosmic Gray frame with a black boom and
swingarm. Second is the matte orange with a black boom and swingarm. If those two colors do not strike your fancy, you can choose from 94 custom colors for an up-charge of $199.00. The powder coat paint job on the Scorpion FS 26 is a quality job. It is everything you would want in a paint job.
Drive Train: HP Veloetchnik offers seven different drivetrains to choose from. The stock drivetrain is a Sturmey Archer Triple Shift 24 speed with a grip type shifter. People love this system with one of the advantages being you can shift the internal three speed hub
while not moving. The Sturmey Archer Triple Shift Hub has three internal gears and eight external gears for a total of twenty four. Having the Sturmey Archer Triple Shift on your trike really cleans up the looks of the front of the trike. With the Sturmey Archer Triple Shift there is no need for a triple crank or front derailleur. The Second most popular drivetrain is the Sturmey Archer Triple Shift with Bar End Shifters which gives you a total of 27 speeds. Our favorite drivetrain is the SRAM 30 Speed with the bar end shifters, the shifting performance is very good. Hp Velotechnik also offers the Scorpion FS 26 with two Shimano Steps drivetrains and a new system called the Neo Drive. The Shimano Steps Moters and the Neo Drive can be paired with the Rohloff 14 speed internal geared hub as well. All the different drivetrains work well. You just have to find the best one for your riding style. The Neo Drive system is a pedal assisted system capable of reaching speeds of 28 Mph. The Neo Drive system has five power mode settings. You can adjust the computer to give you exactly as much power as you need.

Brakes: HP Velotechnik chose my favorite mechanical disc brake system the Avid BB7. The Avid BB7 stopped the trike consistently and had no brake rub. I have no issue with the mechanical brakes and I am a big Avid fan. They are simple, reliable and easy to adjust. Super convenient features of the Avid mechanical brakes are that each brake pad can be adjusted independently so you can really dial in your brake adjustment. Other brake options are Shimano Hydraulic, and Tektro Hydraulic. HP Velotechnik can also couple both brakes, to one brake lever for people with special needs.
Seat: There are a lot of seat options as well on the Scorpion FS 26. The most popular is Ergo Mesh High. The Ergo Mesh seat is breathable and comfortable. Their seats are the Ergo Mesh High extra wide, Ergo Mesh low and Ergo Mesh low extra wide. HP Velotechnik also makes a seat called the Body Link seat. The Body link seat is a low seat made out of a rigid fiberglass with a foam pad or Air Mesh pad fixed to it. The seat angle on the Scorpion FS 26 can be adjusted easily form 32 – 41 degrees. On the Ergo Mesh seat there is extra padding on the sides of the seat. This side padding not only gives extra comfort, but also helps hold the rider in the seat better. I personally prefer the fit of the Ergo Mesh seat. I felt the Ergo Mesh seat was very comfortable and was contoured to fit my back nicely. Seat height is as follows: Ergo Mesh High 40 CM, Ergo Mesh Low 32 CM, Body Link 29 CM. For 2021 HP Velotechnik has up the bar and now has the most advance padded seat on the market. The new Ergo Mesh Premium seat back and bottom are independently adjustable from each other. For people who want to sit very upright or very laid back, the adjustable feature can be a huge benefit. ICE trikes had the best seat on the market but with HP Velotechnik seat the bar has been raised.
Ride: This is where the Scorpion FS 26 really shines. After riding the Scorpion FS 26 it is easy to see why the Scorpion FS 26 has won trike of the year. With a rear wheel travel of 8 CM and 6 CM in the front, bumps just seem to disappear. I will go so far as to say this is the most comfortable riding trike that I have ever ridden. The Handling on the Scorpion FS 26 was exceptional. HP Velotechnik prefers indirect steering and so do I. The steering is light, predictable and everything I could have hoped it could be. The rear suspension did such a good job at absorbing the road shock. The simple coil spring design worked very nicely on our test trike. HP
Velotechnik also offers a Rock Shox Monarch air shock which is a nice upgrade. The Air shock can be tuned easily to your personal taste and rider weight. The Scorpion comes with Schwalbe Tryker front tires, which have a very good roll and still offer a good amount of flat tire resistance and comfort.
Accessories: Hp Velotechnik offers the Scorpion FS 26 with a multitude of options that is so large, it is mind blowing. The most popular accessories are rear rack, neck rest, B and M mirrors, water bottles, and mudguards. Other popular accessories are safety flags and front and rear lights.
In Conclusions: If you want a trike that floats over bumps, top drawer quality and fantastic handling you have found it. One might compare the HP Velotechnik Scorpion FS 26 to the ICE Adventure 26 FS.
Quality
Attention to detail
Soft comfortable ride
Just perfect handling
A tiny bit heavier than other trikes at 40 lbs
Long lead time for a custom made trike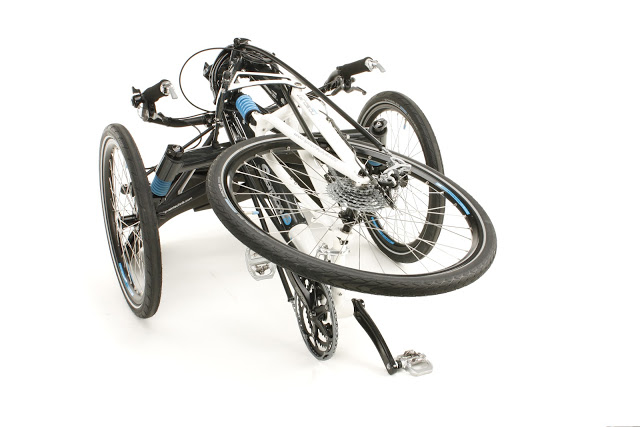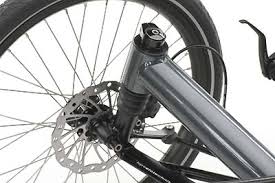 Seat
Seat hight BodyLink: 29 cm (12″)
Seat height ErgoMesh: 32 cm (13″)
Seat height ErgoMesh HS plus: 43 cm (17″)
Seat angle: 41–49° adjustable
Wheels and Tires
Wheel size (front wheel): 20″ (ISO 406)
Wheel size (rear wheel): 26″ (ISO 559)
Max. tire width: 5 cm (2″)
Measurements
Bottom bracket height: 40–45 cm (16–18″)
Ground clearance: 12 cm (5″, statically compressed)
Wheelbase: 128 cm (51″)
Track width: 78 cm (31″)
Width: 83 cm (33″)
Length: 187–231 cm (74–91″)
Turning circle: 5.51 m (18′) outward
Folded size: 123 × 83 × 62 cm (49 x 33 x 25″)
Dismantled size: 93 × 74 × 54 cm (37 x 29 x 22″)
Specifications
Bottom bracket standard: BSA 68 mm
Suspension travel: front 6 cm (2.4″) / rear 8 cm (3.1″)
Weight: from 18.2 kg (41 lbs) incl. pedals
Payload: max. 140 kg (309 lbs)
Frame material: Aluminum 7005 T6 heat treated
Swing arm bearing: maintenance-free
Rider height: ca. 1.62 – 2.00 m (5'4″ – 6'7″)
Warranty
We are committed to the quality of our products. Therefore we grant a guarantee of 10 years on the frame and the swing arm bearing of our bikes and trikes. For further information, please have a look at our warranty conditions.