Catrike Expedition Review
Catrike Expedition Review on May 3, 2022
The Expedition has been in Catrikes line up since 2007.  It has proven itself as a reliable, soldierly built, made in USA recumbent. The Expedition was a big leap forward from its predecessor. The Catrike Expedition offers a 26 inch rear wheel opposed to previous Catrike's which came with 20 inch rear wheels. When Catrike added the 26 inch rear wheel it also increased the wheel base of the trike.  These changes led to big improvement in ride quality.  I think the name Catrike chose for this trike back in 2007 was perfect.  Back then most trikes were designed for casual, recreational riding and the Expedition brought something new and different to the table.  Just the thought of doing something more adventurous like an overnight trip across country on a trike was so refreshing.  Catrike designed the Expedition for just such a purpose.  There is a YouTuber from Michigan with 120,000 followers who documents his trike adventures around the world; he goes by JaYoe Nation if you care to follow.  Trikes keep evolving, and there are so many people buying recumbents that the entire trike manufacture community cannot keep up with sales.
Fifty percent of the recumbents being sold now also have a motor kit.  I here people calling motor kits "cheaters" or saying "why would you want one of those? I am buying a trike to get exercise".  Motor kits open up sales to a much broader range of people. For a person who may have some physical challenges or someone who wants to ride but the hills kick their butt, the motor kits are very desirable.  Motor kits are incredible.  It's like riding down hill with a tail wind.  Catrike chose a premium system from Bosch, it is amazing, smooth, quiet, and works flawlessly.  The only drawback to the Bosch system is there is no throttle and a lot of people want a throttle.  Thankfully there are kits from Electric Bike Outfitters and other companies who offer motor kits that can be added to a base Expedition. The Catrike Expedition also comes with some "got to have" accessories.  The Catrike Expedition come stock with a rear fender, mirror, wrist rest, and clipless platform pedals, all things that most people want and have to pay extra for with other brands.
Frame: The frame on the Catrike Expedition is aluminum, TIG welded together in Florida. I would have to say the welds are beautiful and of the highest quality in the industry. The frame is constructed out of oversized, shaped and manipulated aluminum tubing. Catrike does it all, cutting, bending, welding; heat treating, painting and assembly of your trike all under one roof.
Paint: Catrike's paint jobs are a work of art. There is no one in the bike industry that is better (maybe just equal) to Catrike's paint jobs. Their standard paint jobs are everything you want in a paint job: clean, consistent and durable, along with seven colors to choose from.
Drive Train: The shifting is superb on the Expedition. Catrike chose a premium SRAM drivetrain combination with ten gears to choose from in the rear and three in the front for a total of 30. The SRAM GX rear derailleur performed flawlessly, making the SRAM GX with the SRAM 500 TT Bar End Shifter and Microshift front derailleur. Catrike uses this setup quite often on their trikes. Bar end shifters are Catrike's shifter of choice and mine as well. Bar end shifters just make sense for me. I believe they are easier to use than the grip type shifters you see on some other brands. Grip type shifters work fine on a traditional bicycle but not so much so on recumbents. I feel I do not have as much control of the grip type shifter compared to the bar end type shifters.
Brakes: Catrike chose my favorite mechanical disc brake system the Avid BB7 brakes with the Avid Speed Dial brake levers. This combination stops the Catrike Expedition consistently and has no brake rub. I have no issues with the mechanical brakes that Avid offers. They are simple, reliable and easy to adjust. A super convenient feature of the Avid mechanical brakes is that each brake pad can be adjusted independently so you can really dial in your brake adjustment. Catrike chose a simple Velcro strap that you wrap around one of the brake levers for your parking brake. I really like this because it is simple and adds no weight to the trike. This also allows Catrike to be able to use a premium brake lever.  ICE trikes and Hp Velotechnik chose a different route by adding a brake to the rear wheel and a remote shifter to control the brake. This works well but it adds almost a pound to the ICE trikes and Hp Velotechnik trikes.
Seat: Catrike was the first company to offer a padded seat and it was a huge home-run for Catrike.  People love the idea of a padded seat and without even sitting in it would say "Oh, that seat is way more comfortable that the mesh version".  Catrike did a nice job on the seat, they used a breathable foam pad that doesn't hold much heat yet offers a nice amount of cushioning. ICE trike followed with a breathable vented, padded seat about two years later, one-upping the seat on the Catrike. Hp Velotechink also came out with a breathable padded, vented, seat and made the back and bottom independently adjustable from each other.  Everyone in the trike industry is always trying to one-up each other, which has lead to some amazing trikes on the market today. The seat height of the Catrike Expedition is 10 inches compared to the Catrike Trail at 9 inches, Dumont at 10 inches, 5.5.9 at 11 inches and Villager at 12.5 inches.  The seat angle on the Expedition is 37 degrees and is not adjustable.  Catrike uses a hybrid padded seat mesh on the Expedition where the center is very breathable and the sides are padded.  I think the seat mesh will be very comfortable on a hot summer's day.
Handling: Catrike uses direct steering on all there models, I prefer what is called indirect steering but the Catrike Expedition steers confidently and handles just fine.
Ride: I found the ride on the Expedition to be typical of Catrike. It is perhaps a little stiffer than some other brands of trikes, but it's still comfortable enough to be on for long rides.  I can only give the Expedition a five out of ten score, honestly.  The Catrike 5.5.9 is more comfortable, and the Catrike Dumont is more comfortable than the 5.5.9.  So who does the Expedition appeal to the most?  Well, I think someone that has no need to fold the trike and someone looking for a very good value.  If you can live with the 37 degree seat angle, then the Expedition could be the right choice for you.  I find the seat angle to be fine but most women will not like it.  When women sit on the Catrike Expedition it is almost immediate that they say "it feels like I am laying down".
In conclusion: Over the years Catrike has been very successful with the Expedition.  It has always been a high quality, soldierly built, and reliable trike.  I feel Catrike has made some nice refinements over the years but with no-folding frame, no adjustable seat angle, and no suspension it has been outshined by the 5.5.9 and Dumont.
Pros: Very light weight, 26 inch rear wheel, OMG paint, great fit and finish, excellent value.
Cons: No real cons as long as you are ok with a recumbent with no folding capabilities, no adjustable seat angle and no suspension.
Light
26″ Rear Wheel
Great paint
Excellent Value
Doesn't fold
Can't adjust seat
No suspension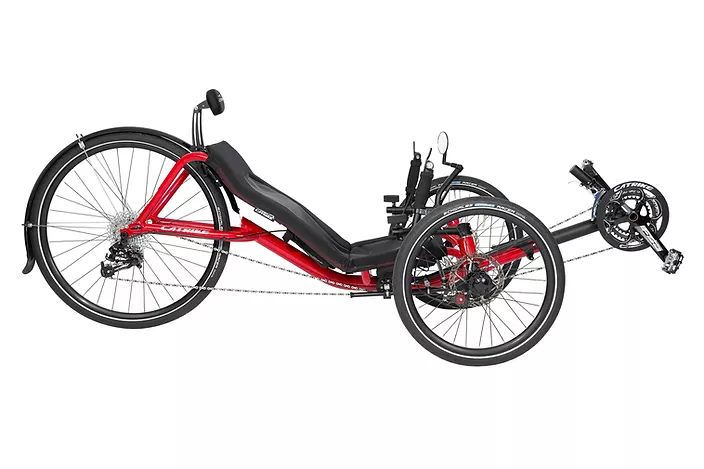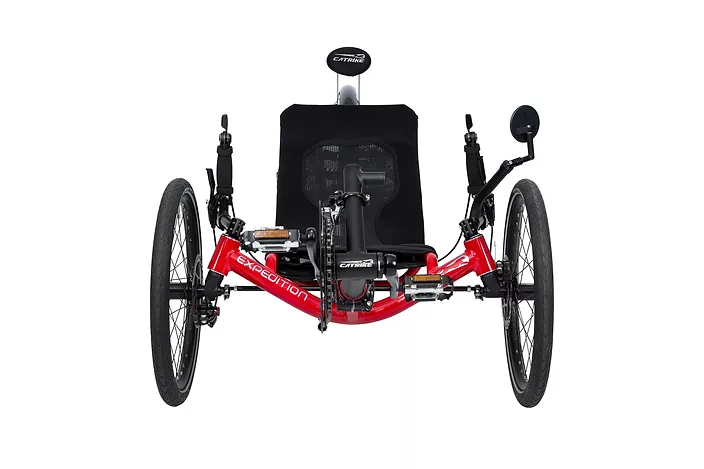 Seat
Seat height: 10″ (254 mm)

Seat angle: 37º

Wheels and Tires
Wheel size (front wheel): 20 x 1.5″


Wheel size (rear wheel): 26 x 1.5″
Measurements
Max bottom bracket height: 16.5″ (419 mm)

Ground clearance: 4.5 (114.3 mm)

Wheelbase: 43″ (1092 mm)

Track width: 29″ (737 mm)

Total width: 32.5″ (826 mm)

Max length: 77″ (1956 mm)

Total height: 26″ (660 mm)


Turning circle: 18′ (5.5 m)



Specifications
Bottom bracket standard: FSA Road MegaExo

Weight: 35 lbs (15.9 kg)

Max payload: 275 lbs (125 kg)

Frame material: Heat-treated aluminum

X-Seam Range: 39 – 46″ (990 – 1168 mm)