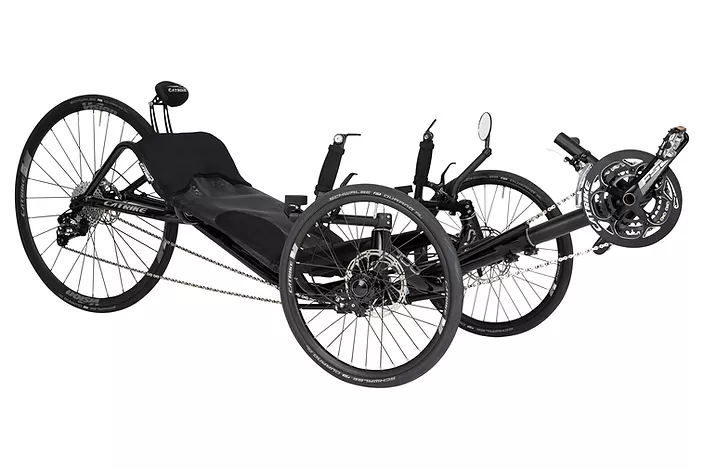 Catrike 700, Posted on November 13, 2015 and updated December 3, 2021
If you are looking for the ultimate in all out speed and performance, look no further. You found it with the Catrike 700. I have a small lake cottage that my grandfather purchased back in the 1930's. I simply love being by the water and enjoy every minute I am there. This past spring I loaded up the family and headed to our lake cottage for the weekend, like most weekends in the summer. When we got to our cottage my neighbor was standing in his driveway admiring his new toy. When I saw it, I said to my wife, "Wow do you see what Ray has got?" My wife's response, "it looks like Ray got a new car." I said, "that is not just a new car. That is the coolest car ever made and AC Cobra." I parked my F150 and headed right over to Ray's house. My wife and kids knew there was no stopping me and they started to unload our truck with our things for the weekend. Ray just picked up the car that day and gave me the low down on his new car. 427 big block engine! Side pipes! Racing seats! Manual shift!
I told him the AC Cobra was my favorite car of all time, hoping some way he would offer to take me for a ride. Ray is a good guy he said he was going for ice cream with his wife and would take me for a ride when he returned. I waited impatiently for about an hour. From about a quarter mile away, I heard him coming. I ran out to my driveway and waited for him to drive up. My wife and kids came out as well. Ray's wife hopped out of the car and I hopped in. We then preceded down our little dirt road to the main road. Without saying a word, Ray turns onto the main road and stood on the gas pedal. From 10 mph to 90 mph in about three seconds even on a curve in the road. The car felt glued to the road, super stable, and fast as hell! That's exactly how I feel on the Catrike 700. The AC Cobra is basically a race car. No frills like soft riding suspension, air conditioning or power windows, just flat out performance and the Catrike 700 is the same.
The Catrike 700 is one of the fastest trike made for recreational use. One of the things that makes the Catrike 700 faster than other trikes is how you are positioned on the trike. You are low, very low and laid way, way back, making you very aerodynamic. The biggest thing holding anyone back from going faster, is air drag on your body. The Catrike 700 is about as aero as you can get without a fairing. Second, is the big 700c rear wheel, and skinny fast rolling tires all the way around the trike. Our Catrike 700 test trike comes stock with a neck rest, mirror, wrist rest and clipless platform pedals. I am very pleased to say that you can get a Catrike much faster now than ever before. Up until the 2016 season, every Catrike was made to order. The procedure was that the bicycle dealer places an order with Catrike and Catrike would build the trike in the color the dealer requested. This process took about four weeks, until now. Catrike for 2016 will be stocking trikes. Hurry!!! Now you can get your Catrike in your favorite color, in less than half the time.
Frame: The frame on the Catrike 700 is aluminum, TIG welded together in Florida. I would have to say the welds are beautiful and of the highest quality in the industry. The frame is constructed out of oversized, shaped and manipulated aluminum tubing. Catrike upgraded the frame in 2019 to a through axle design for the rear wheel. The advantage to a through axle is it adds a lot of stiffness and strength to the rear frame. I think Catrike was also looking on down the road making the frame stronger to accommodate motor kits.
Paint: Catrike paint jobs are a work of art. There is no one in the bike industry that is better, maybe just equal to Catrike's paint jobs. Their standard paint jobs are everything you want in a paint job-clean, consistent and durable, along with seven colors to choose from. If you buy your Catrike in the winter when Catrike sales are a bit slower, Catrike will give you five additional colors to choose from.
Drive Train: The shifting is superb on the Catrike 700. Catrike chose a premium SRAM drivetrain combination with ten gears to choose from in the rear and three in the front for a total of thirty. The SRAM GX rear derailleur performed flawlessly. Catrike mated the GX rear derailleur with the SRAM 500 TT Bar End Shifter and Microshift front derailleur. Catrike uses this setup on all of their trikes. Bar end shifters are Catrike shifter of choice and mine as well. Bar end shifters just make sense for me. I feel they are easier to use than the grip type shifters you see on some other brands of trikes.
Brakes: Catrike chose my favorite mechanical disc brake system the Avid BB7 brakes with the Avid Speed Dial brake levers. This combination stopped the trike consistently and had no brake rub. I have no issue with the mechanical brakes that Avid offers. They are simple, reliable and easy to adjust. A super convenient feature of the Avid mechanical brakes are that each brake pad can be adjusted independently so you can really dial in your brake adjustment. Catrike chose a simple Velcro strap that you wrap around one of the brake levers for your parking brake. I really like this because it is simple and adds no weight to the trike. This also allowed Catrike to be able to use a premium brake lever. ICE trike chose a different route by adding a brake to the rear wheel and a remote shifter to control the brake. This works well but added almost a pound to the ICE trikes.
Seat: The seat on the Catrike 700 is a breathable mesh that is padded for comfort. It has some nice pockets sewn in the back for carrying your important things. The seat height of the Catrike 700 is 8 ½ inches and the seat angle is a fixed at 25 degrees so you got to love it from the start because you can not make any adjustments.
Ride: The ride on the Catrike 700 is like the AC Cobra, stiff. It feels glued to the road, and you can rip around corners and there is no concern about tipping over. The Catrike 700 is blazing fast, good handling and just about as fun as you can get on a trike. Is it practical for most people? No! Is it easy to get in and out of? No! Is it something I would like to do a long ride on? No! Is it a trike that you can probably be the fastest person on you group ride? Yes!
In conclusion: Like my neighbors AC Cobra, is the Catrike 700 practical? No. Is it exciting to ride? "Oh Yeah".

Pros: Fast, light weight, OMG paint
Cons: Not practical for most riders.
Try the Catrike Villager for a more universal trike.
Best place to buy: Your local Catrike dealer or www.Industrialbicycles.com
Fast
Light weight
Great Paint
Sturdy
Stays on ground
Low to the ground
Not practical for most riders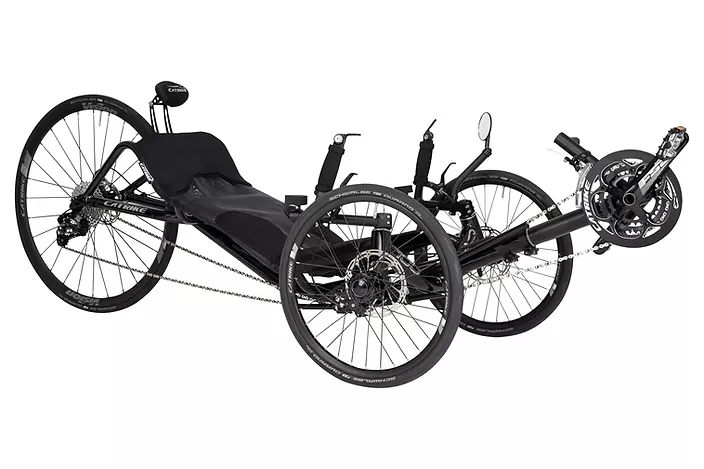 Seat
Height: 14″ (355.6 mm)
Angle: 25º
Wheels and Tires
Front wheel size: 20 x 1.5″
Rear wheel size: 700c x 38
Measurements
Max bottom bracket height: 17.5″ (445 mm)
Ground clearance: 4″ (102 mm)
Wheelbase: 46″ (1168 mm)
Track width: 27.5″ (699 mm)
Total width: 31″ (787 mm)
Max length: 82″ (2083 mm)
Total height: 26.75″ (679.5 mm)
Turning circle: 10′ (3 m)
Specifications
Bottom bracket standard: FAS Road MegaExo
Weight: 34 lbs (15.4 kg)
Max payload: 275 lbs (125 kg)
Frame material: heat-treated aluminum
X-Seam Range: 39 – 46″ (990 – 1168 mm)